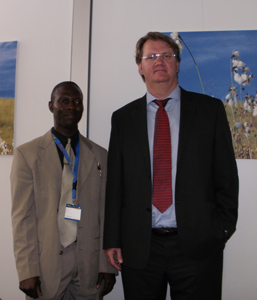 Meeting in Munich with the managing director Solar World AG Africa
A
n important meeting held at the new Munich Trade Fair Centre on 11th June 2010. In the photo are: Wecass Director Forster Onyekachukwu Edward (left) and Gregor Küpper, managing director of Solar World AG Africa.
This meeting had been planned to take place long ago, but due to many commitments on both sides, including Mr Küpper's involvement in the Solar Park project in South Africa, the appointment was unable to be held until 11th June this year.
A
t the meeting, Wecass took the opportunity to congratulate Mr Küpper for the fantastic project, "Football for Hope Centre" in the community of Khayelitsha, in Cape Town, South Africa, which involved a solar-power TV station in the run-up to the Football World Cup 2010.
I
n the meeting there were exchanges of views in technical fields concerning solar installations in Africa and the training programmes necessary for Africans to adapt in order to be able to carry out the respective tasks themselves.
M
r. Küpper took the opportunity to introduce to Wecass the new Suntub system for flat roofs and the Sundeck solution for new buildings, both of which can be quickly installed.
Wecass and its partners expressed our optimism that, with our experience, Africans trained in our institution will be fully prepared to carry out climate change technology projects in Africa.