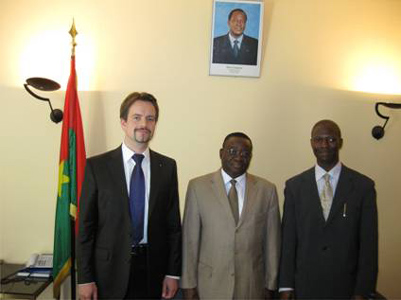 appointment by the embassy of rep.burkina faso
T
he meeting on 26th May 2010 was held at the Burkina Faso embassy building and the agenda was to present our new programme in an effort to protect the African continent through climate change integration technologies. From left are: Mr.Hartwig Jost, project supervisor at the Tüv Süd Academy Berlin; His Excellency the Ambassador of the Republic of Burkina Faso S.E.M Xavier Niodogo; Wecass Director Mr.Forster Onyekachukwu Edward.
H
is Excellency Ambassador S.E.M Xavier Niodogo is an African intellectual, a great leader, a man blessed with wisdom and a very good listener; there were very positive and constructive dialogues at the meeting.
H
is Excellency S.E.M Xavier Niodogo expressed his interest in Wecass' and its partners' climate change technology programmes for Africans. His Excellency called on Wecass and its partners to make sure that this interesting programme for the African continent would be conducted in multiple colonial languages so that there will be no young African intellectual who will be excluded from the programme due to a language barrier, as this climate change protection programme should be very beneficial for the African continent as a whole. In his closing remarks, His Excellency expressed his view that Wecass and its partners have developed a good programme that will help the African continent and also his hope that African leaders and the African continent will take advantage of it.